Cinzia Zuffada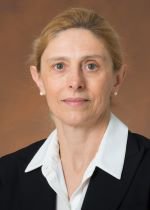 Address:
4800 Oak Grove Drive
M/S 180-600A
Pasadena, CA 91109
Phone:
818.354.0033
Fax:
818.354.3442
Curriculum Vitae:
Click here
Member of:
Affiliates
JPL Associate Chief Scientist
Biography
As the Laboratory Associate Chief Scientist, Dr. Cinzia Zuffada is a key contributor to the strategic planning of science and technology research and development for JPL and to managing institutional internal R&D investments. Additionally, she oversees a number of programs supporting collaborations between JPL and the academic community as the manager of the University Research Affairs.
For over twenty years, she has led the pioneering Global Navigation Satellite Systems reflectometry technology development at JPL and has played a pivotal role in demonstrating the feasibility of the remote sensing technique for ocean altimetry and land hydrology. She is currently leading a research group to analyze data from the NASA CYGNSS mission to better understand dynamic processes of the terrestrial hydrology.
Education
Laurea (Doctorate) in Electronic Engineering, University of Pavia, Italy (1979)
Professional Experience
NASA Jet Propulsion Laboratory (1992-Present)
JPL Associate Chief Scientist (2006-present)
Science Fellow, US State Department, posted at the US Embassy in Rome (2019)
Task Manager, NOAA Observing Systems Architecture Study (2016-2018)
Manager, Earth Remote Sensing Section, Science Division (2006)
Task Manager, Instrument Incubator Program, GOALS (1998-2001)
CYGNSS Competed Science Team, Principal Investigator, (2018-Present)
NASA R&A, Physical Oceanography, Principal Investigator, (2017-Present)
Research Interests
Dynamic mapping of wetlands with CYGNSS data; Coherent scattering from inland bodies of water covered by vegetation
Selected Awards
Magellan Award, Outstanding Senior Management, JPL (2014)
NASA Medal for Outstanding Leadership (2015)
Knighthood for Order of Merit of the Italian Republic (2015)
Collegio Ghislieri Lifetime Achievement Award (2019)
Selected Publications
J. Mashburn, P. Axelrad, C. Zuffada, E. Loria, A. O'Brien, B. Haines: "Improved GNSS-R Ocean Surface Altimetry with CYGNSS in the Seas of Indonesia", IEEE Transactions on Geoscience and Remote Sensing, Accepted, 2020.
Eric Loria, Andrew O'Brien, Valery Zavorotny, Brandi Downs, Cinzia Zuffada: "Analysis of Scattering Characteristics from Inland Bodies of Water Observed by CYGNSS", submitted to Remote Sensing of Environment, October 2019.
Morris, M., Chew, C., Reager, J.T., Shah, R., Zuffada, C.: "A novel approach to monitoring wetland dynamics using CYGNSS: Everglades case study", Remote Sensing of Environment 233, November 2019, 111417, doi.org/10.1016/j.rse.2019.111417, 2019.
E. Cardellach and 34 co-authors including C. Zuffada: "GNSS Transpolar Earth Reflectometry exploriNg system (G-TERN): Mission concept", IEEE Access, vol. 6, pp. 13 980-14 018, 2018.
C. Chew and 7 co-authors including C. Zuffada: "SMAP radar receiver measures land surface freeze/thaw state through capture of forward-scattered L-band signals", Remote Sensing of Environment 198-333-344, DOI: 10.1016/j.rse.2017.06.020, September 2017.
H. Carreno-Luengo, S.T.Lowe, C. Zuffada, S. Esterhuizen and S. Oveisgharan: "Spaceborne GNSS-R from the SMAP Mission: First Assessment of Polarimetric Scatterometry over Land and Cryosphere", Remote Sens. 2017, 9(4), 362; doi:10.3390/rs9040362, April 2017.
S.V. Nghiem, C. Zuffada and other 8 co-authors: "Wetland Monitoring with Global Navigation Satellite System Reflectometry", AGU Journal of Earth and Space Science, Vol. 4(1):16-39, DOI: 10.1002/2016EA000194, January 2017.
Wickert, J. and 31 co-authors including C. Zuffada: "GEROS-ISS: GNSS REflectometry, Radio Occultation, and Scatterometry Onboard the International Space Station, IEEE Journal of Selected Topics in Applied Earth Observations and Remote Sensing 9(10):4552-4581, October 2016 DOI10.1109/JSTARS.2016.2614428
Z. Li, C. Zuffada, S.T. Lowe, T. Lee and V. Zlotnicki: "Analysis of GNSS-R Altimetry for Mapping Ocean Mesoscale Sea Surface Heights Using High-Resolution Model Simulations", IEEE Journal of Selected Topics in Applied Earth Observations and Remote Sensing 9(10):4631-4662, October 2016, DOI: 10.1109/JSTARS.2016.2581699.
Chew, C., R. Shah, C. Zuffada, G. Hajj, D. Masters, and A. J. Mannucci (2016), Demonstrating soil moisture remote sensing with observations from the UK TechDemoSat-1 satellite mission, Geophys. Res. Lett., DOI: 10.1002/2016GL068189.